Register now for our free virtual symposium, Built for These Times: Making the Shift to the Science of Reading on March 4, 2021, from 11 a.m. to 5 p.m. EST.
This event is your front-row seat to learning more about the science of reading and how to start making the shift in your classroom and district. Certificates of attendance will be awarded.
Here's who will be among the dream team of speakers: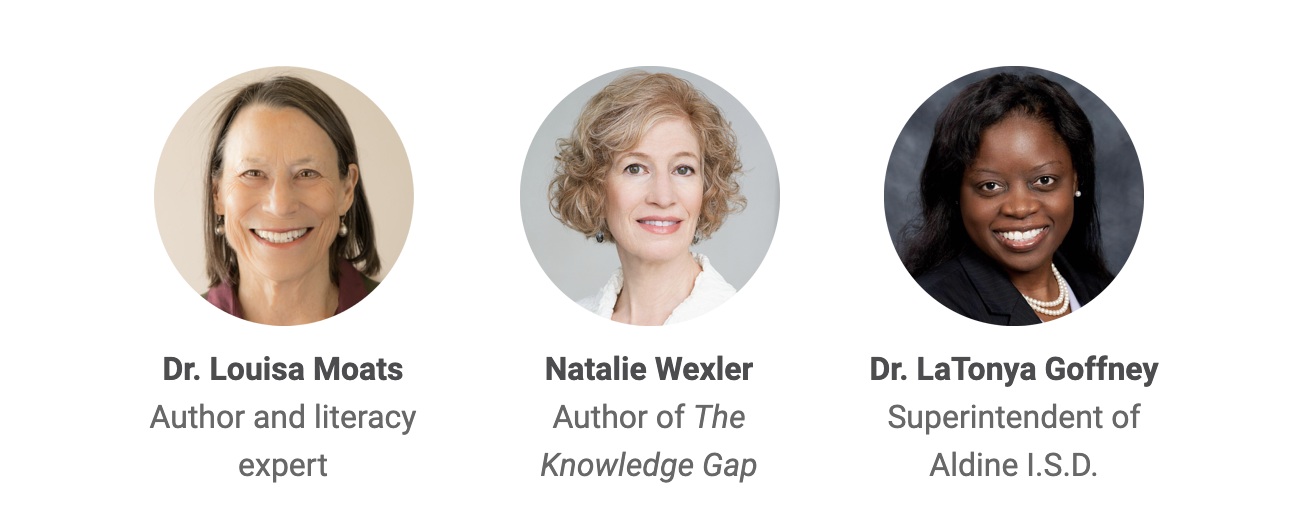 Scroll down to see the agenda. Speakers also include Dr. Carolyn Strom, Dr. Pamela Snow, DeJunne' Jackson, Dr. Bruce McCandliss, Margaret Goldberg and Lani Mednick (The Right to Read Project), Dr. Jan Hasbrouck, Dr. Todd Davis (Aldine I.S.D.), and Janise Lane (Baltimore City Public Schools).
We've also put together a free digital swag bag, including some fun virtual meeting backgrounds and our primer, Science of Reading, A Primer: Part One, so you can share your newfound love of the science of reading.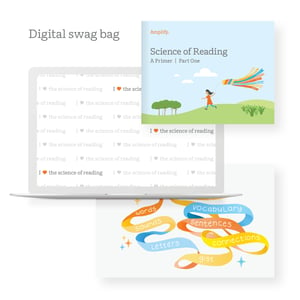 Can't attend live? We'll record the event and send it out to all registrants afterward so you won't miss a thing.
Time (EST)
Title and presenter
11:00–11:50
Aligning Instruction with the Science: What Should We See in Classrooms?
Margaret Goldberg and Lani Mednick (The Right to Read Project)
11:50–11:55
Break
11:55–12:40
Speech to Print: Reading's Best Idea
Louisa Moats
12:40–12:45
Break
12:45–1:15
Social Lunch Break (Win prizes!)
1:15–2:00
The Science of Reading: Matters of Equity (Interest Session 1A)
DeJunne Jackson
1:15–2:00
Beyond Buzzwords: Using the Science of Reading for Impact (Interest Session 1B)
Carolyn Strom
2:00–2:05
Break
2:05–2:50
How Writing Instruction Can Narrow the Knowledge Gap (Interest Session 2A)
Natalie Wexler
2:05–2:50
Making Sense of Fluency Data: What Does ORF Really Measure? (Interest Session 2B)
Jan Hasbrouck
2:50–3:00
Break
3:00–3:45

Strengthening the Strands of the Reading Skills 'Rope': Research Insights for Teachers Interested in the Science of Reading

(Interest Session 3A)
Bruce McCandliss
3:00–3:45
Early Reading Success: Oral Language Competence is the Engine and High Quality Instruction is the Fuel (Interest Session 3B)
Pamela Snow
3:45–4:00
Coffee break, come in and join us!
4:00–4:45
Making the Shift for Administrators: Leading Change in Your District (Panel)
Dr. LaTonya Goffney and Dr. Todd Davis (Aldine ISD), Janise Lane (Baltimore City Public Schools), and Karin Ryan (Erie Public Schools)
4:45–5:00
Wrap Up
Susan Lambert, Host of Science of Reading: The Podcast