Amplify STEM Forum on Equity and Inclusion
A free, two-day professional learning event for K–12 educators and leaders
With an upcoming school year different from any other, how do we ensure equity and inclusion for all?

To answer this question, Amplify has partnered with experts from Desmos, our partner authors, as well as educators from across the country to discuss the importance of equitable access to high-quality math and science instruction and materials.
Agenda and registration
Register today to secure your spot and receive a copy of our math and science profile cards. Educators are able to highlight representation in both math and science with these profile cards, which can be used with both in-person or virtual instruction.

Educators who attend live sessions will have an opportunity to request a certificate of attendance 24 hours after the completion of the Forum. If you can't attend live, you will still be able to access recordings of the webinars by registering.
---
Monday, September 21
The two-day forum will kick-off on Monday, September 21, as we focus on equity and inclusion in the math classroom.
---
Recognizing Student Brilliance: Using Student Thinking and Identity as the Center of a Classroom Experience.
Time: 4–5 p.m. EDT / 1–2 p.m. PDT
Faith Moynihan
Desmos Teaching Faculty

How do we create a learning culture where all students see themselves as powerful and valuable learners? This session introduces teachers to technology and pedagogy for amplifying the voices of every student and developing their identities as mathematicians, helping them see their own value and the value of their peers.
---
Embedding Problem Solving Into Your Curriculum
Time: 5:15–6:15 p.m. EDT / 2:15–3:15 p.m. PDT
Fawn Nguyen

Teacher on special assignment
Rio School District, California


There's plenty of research to support the benefits of engaging students in problem solving (PS), yet few students have access to this type of task, and it's highly likely due to the lack of professional development for teachers to engage in these tasks themselves and how to make it an integral part of their curriculum. Currently, if PS is implemented at all in the classroom, more likely it's doled out as an enrichment. We need students to engage daily in thinking and struggling and being stuck in order to learn. Why is allowing students an opportunity to think to be an enrichment? Two of the 9 Equitable Math Teaching Practices include drawing on students' funds of knowledge and positioning them as capable learners. Through this lens, let's engage in these tasks ourselves so we may in turn deliver high-quality instruction to our students.
---
Practical Ideas To Bring Math History/Storytelling Inside Classrooms
Time: 6:30–7:30 p.m. EDT / 3:30–4:30 p.m. PDT



Sunil Singh
Author, storyteller, and Amplify consultant

How do we create and nurture classrooms where students identify with being a mathematician and see themselves reflected in it? We do that by sharing important problems, ideas, and stories from math history. Together, they help not only with belonging and curiosity, but also with developing empathy, resilience, and perseverance. In this workshop, teachers will receive resources and ideas to bring math history inside their classrooms, whether they be remote learning or not.
---
Tuesday, September 22
We'll continue the conversation on Tuesday, September 22, by focusing on equity and inclusion in the science classroom.
---
Implementing District-level Diversity, Equity, and Inclusion Initiatives
Time: September 22, 4–5 p.m. EDT / 1–2 p.m. PDT
Administrators from Illinois, California, and Colorado join our panel discussion to share their district-level diversity, equity, and inclusion initiatives, and the strategies they're using to ensure those initiatives are implemented with fidelity.
Allison Grandberry
PreK–5 Science Specialist, STEM Department
Chicago Public Schools

Phil Kim Senior Director of STEM Achievement
KIPP Charter Schools

Angelina Walker Principal, John H. Amesse Elementary School
Denver Public Schools
---
Classroom Strategies for Addressing the Needs of All Learners
Time: 5:15–6:15 p.m. EDT / 2:15-3:15 p.m. PDT
Join classroom teachers from across the country to learn how they're implementing district-level diversity, equity, and inclusion initiatives in the classroom to ensure that the needs of all learners are being met.
Keneisha Charleston
Elementary school teacher
Chicago Public Schools
---
Social and emotional learning in the era of remote education
Time: 6:30–7:30 p.m. EDT / 3:30–4:30 p.m. PDT
A focus on social and emotional learning (SEL) is key to equity and inclusion in normal times, but has taken on new meaning in an era of remote and hybrid learning. Join educator Valeria Rodriguez to hear strategies on how to address social and emotional learning while also navigating the new normal this back-to-school season.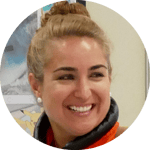 Valeria Rodriguez
Middle school teacher
St. Stephen's Day School
---
Did you miss our spring webinar on remote learning in the STEM classroom? You can access those sessions on demand here.